Upgrade Your Custom Home Theater to 4K
Get the Latest in Immersive Sight and Sound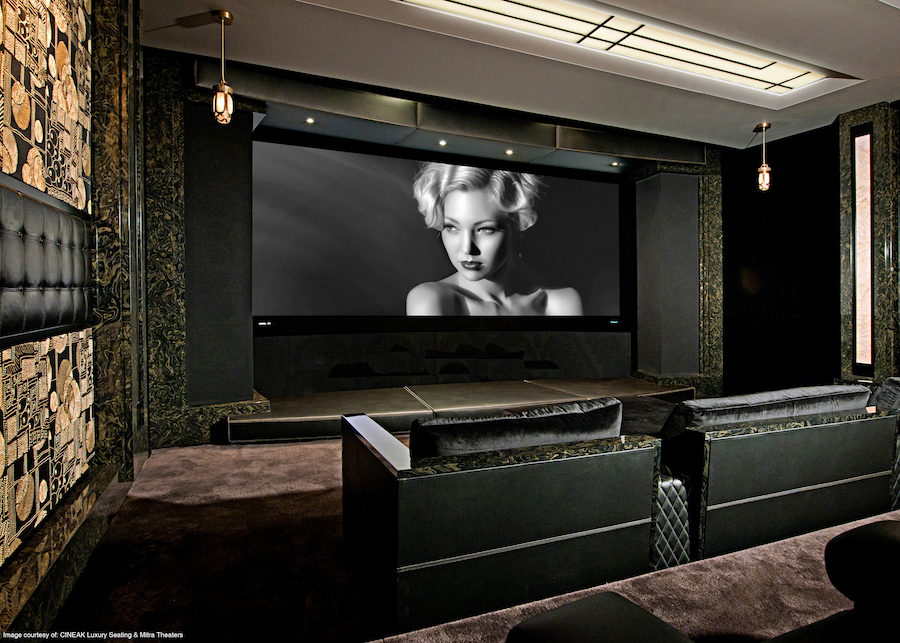 You love home cinema. But is it the luxury of having a huge screen at home or the lack of sticky floors and overpriced concessions? Most likely both of these are highly desirable. Is there a better pleasure than settling into your own custom theater for a movie at home in Snowmass after a hard day of skiing? We think not, although a soak in the hot tub is up there too.
If you already have that home theater, you may be lacking the latest technology. Perhaps your mountain chalet came with an existing home theater. Maybe you put the theater in yourself some years ago, before the latest 4K HDR and immersive sound formats were available. Your setup is great, but you'd really like to upgrade to 4K to take advantage of the new high resolution streaming shows on Netflix and Ultra HD Blu-ray movies, with their much higher contrast and detail. While you have a full surround sound setup, you may have been looking into Dolby Atmos and how that can provide an even more immersive cinema experience.
If you've been waiting to pull the trigger on a 4K projector to upgrade your theater – and perhaps take the next step to an even more engrossing sound experience - we have good news. Both 4K HDR and Dolby Atmos are widely available in a variety of equipment. What's more, the amount of 4K content has increased exponentially since the early days of the formats, with streaming movies and shows from iTunes, Vudu, Netflix, and Amazon, as well as many movie releases on Ultra HD Blu-ray discs.
Read on to learn about some custom home theater upgrade ideas for your Snowmass home.
The 4K Projector
A projector provides a huge picture, and 4K and HDR technology are even better for super large screen sizes as you will see so much detail. HDR (high dynamic range) is almost as important as the higher resolution in picture quality. The higher contrast and deeper color gamut will simply produce a picture that is more three dimensional than ever. We're not talking about the 3D technology using glasses that never really became mainstream; we are talking about a much more natural picture that makes you feel like you are part of the action. Today's projectors have true 4K resolution, as earlier models employed 1080P HD LCDs and some clever "pixel shifting" technology to give the appearance of higher resolution. While those were capable of displaying modern 4K and HDR (High Dynamic Range) content, they were not true 4K, and the difference is visible with very high-quality material such as an Ultra HD Blu-ray movie disc.
Sony's ES line of projectors features full 4K resolution and HDR technology and can display a screen as large as 300 inches. At the top of the line is the VPL-VW5000ES, a laser projector that is specifically designed for home theater. With 5000 lumens of brightness and a 20,000-hour laser lamp, you have a projector built to last your theater for a long time. Many other Sony models offer exceptional performance at price points to fit most home theater budgets.
Immersive Dolby Atmos Surround Sound
Dolby Atmos – and its competitor DTS:X – is the biggest thing to happen to surround sound in years. It is called object-based surround sound because it lets movie sound engineers place sounds very precisely in space, making surround sound more natural and immersive. If there is a helicopter overhead, bullets flying from different directions, and sirens wailing, you will hear them more distinctly than ever before, as if you were in the scene.
For 4K video switching capabilities and Dolby Atmos, your sound system will likely need an upgrade. If you prize the ultimate in sound quality, Lexicon's MC-10 will make a great choice. It supports the latest Atmos and DTS:X formats, has decoding for 11 channels of surround sound, advanced Dirac room correction software, and features Lexicon's legendary construction and sound quality.
There are many more choices in projectors, large flat panel displays, receivers and surround processors, and other equipment to upgrade your Snowmass home theater to the latest technology. Just click here connect with us!