The Top Home Theater Design Trends for 2018
New Technology Enables New Choices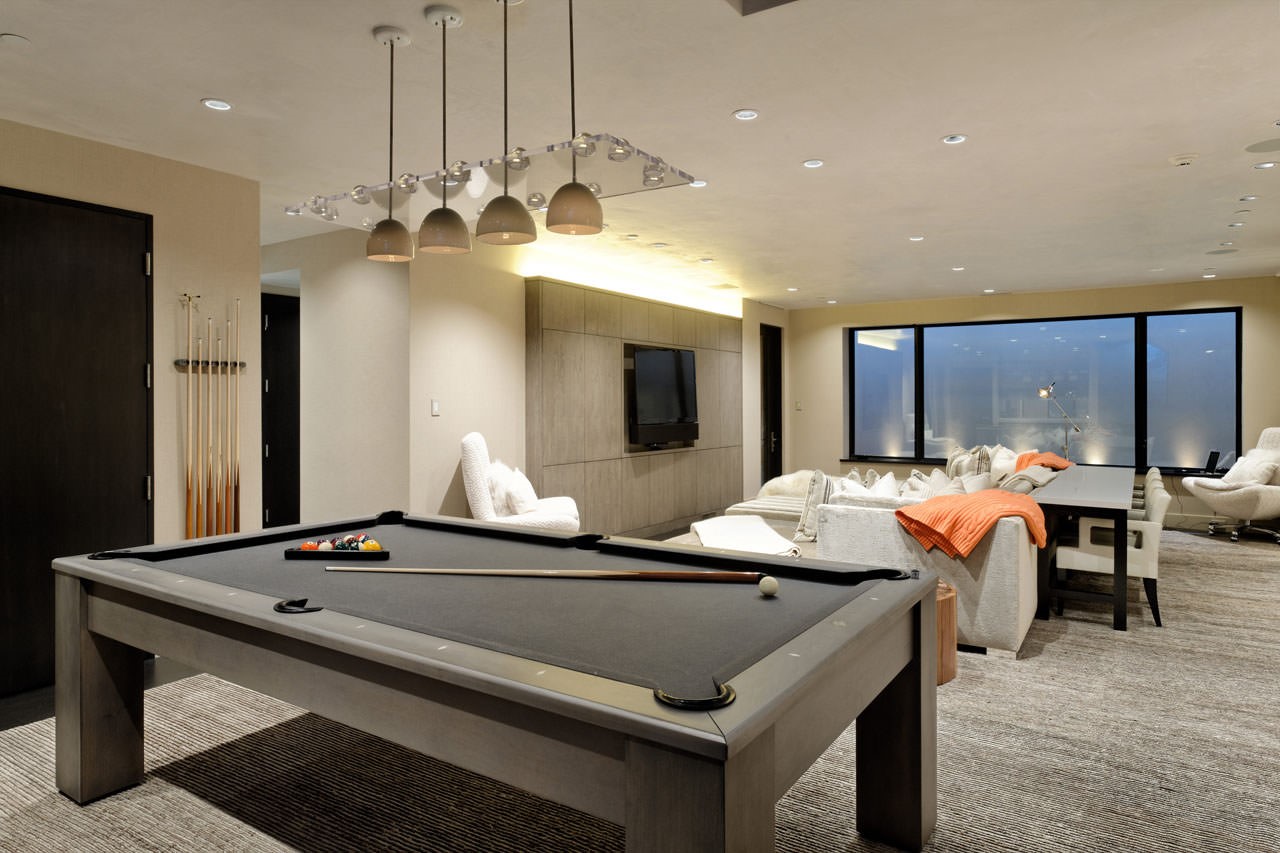 It used to be that a home theater evoked thoughts of a scaled-down movie theater. Or perhaps a mini-version of the small town Strand or Bijou movie theater from a bygone era. While we maintain that small town atmosphere here in Aspen, most of those nostalgic theaters have all but disappeared. Much of our rustic Colorado architecture and our active, outdoor-oriented lifestyle lean toward a more relaxed approach to home theater design. Today, we do more than watch movies in our home theaters – we're binge-watching Netflix shows, multiple college and NFL games on weekends and playing music videos as background in a multipurpose media/game room.
Home theater design is evolving to meet today's evolving entertainment purposes. Of course, you can still build that traditional theater in the lower level of your Red Mountain retreat with movie-themed décor and comfortable theater seating. But now, the theater can be in practically any room you want to make it, and today's technology allows more flexibility than ever in designing the perfect media room.
Let's explore current trends in home theater and media room design to make any room into a state-of-the-art entertainment oasis at your Aspen-area house.
SEE ALSO: Designing A Dedicated Home Theater
Hybrid Rooms
Many traditional home theaters were purpose-built or remodeled rooms, with outside light blocked out by heavy window treatments. Some even had no windows at all. Given our beautiful Rocky Mountain views, we might want to enjoy the view and our media too. Today, families often like a media room that can also host games or other entertainment.
Less-restrictive media room layouts open up possibilities for a broader range of experiences. Watching sports, live music events, major news coverage, or the Oscars might be on tap for an evening instead of a movie. With a multipurpose media space, your family and guests can enjoy multiple media sources in conjunction with food, drinks, and conversation. And If you have the room, why not add a dance floor, too?
Screens
A typical home theater setup used to call for a projector and screen to get the desired cinematic effect. While today's projectors are better than ever – and increasingly cost-effective – by no means is that the only choice.
The newest flat-panel technologies – OLED at the high end and zone-dimming LED panels at a variety of price points – zoom up to 80 inches or more in size, making an excellent option for smaller rooms. HDR (high dynamic range) capability is the latest technology which makes the picture really "pop" with higher contrast and more vibrant colors, offering a big-screen experience perfect for dark room movie-watching and daytime viewing alike.
Ultra-short-throw projectors – those that project a wide screen from a short distance – are also now becoming available at price points to fit many budgets and spaces. They are easier to set up than traditional projectors and can project screens up to 120 inches onto regular walls or wall-mounted screens.
The latest trend in media and theater rooms is a combination of screens. This type of room might have one or more flat panels for casual viewing and a drop-down screen paired with a projector for movies and events. It's perfect for such hybrid rooms.
With the right home automation system, homeowners can have their own version of a sports bar or movie theater with a few taps on a tablet or remote – or even a voice command.
4K Content
4K TVs and projectors are now mainstream, and streaming devices like Roku and Apple TV are capable of the high resolution along with HDR capability. Ultra HD Blu-ray is the best quality format for movies, but the streaming services from Apple, Amazon, Netflix, Google, Vudu, and others are offering ever-increasing numbers of movies and shows available in 4K resolution.
Sound Bars and Dolby Atmos
Introduced in 2015, Dolby Atmos is a surround sound format that adds increased height and breadth to movie sound. Most new home theater receivers and processors support the format, and any future-proof media or theater room would be wise to include it. Don't forget to pay attention to ceiling height in designing or remodeling, as height matters for the best Dolby Atmos experience. Also, DTS:X (a Dolby Atmos competitor) compatibility is important for those that want to watch 4K Blu-ray movies, as that is increasingly popular on new Blu-ray releases.
Soundbars initially became popular as a way to achieving a better sound experience to accompany flat screen TVs, whose speakers generally have poor audio quality. They also offer simplified setup and superior surround sound performance in the right rooms. Soundbars have now evolved to the point where the highest end models can rival systems with separate speakers. For certain multipurpose media rooms, a soundbar may be the right fit to combine powerful audio, design, and simplicity.
Voice Control
Voice control is currently all the rage. Whether it's Siri on Apple products, Amazon's Alexa, Google Assistant or other variants, voice control has arrived, and new ways that you can use voice commands appear every day. The latest streaming devices from Apple, Google, Amazon, and Roku – as well as smart TVs from major manufacturers like Samsung and Sony – have varying degrees of voice capability for content search and control functions. Home automation systems like Savant can extend voice control over a variety of other functions like lights, motorized shades, and thermostats while also working well with the popular voice assistants from Amazon and Google.
Are you ready to upgrade or build a new media room? Let us show you the latest options. Just click here to get started!