Experience True Hi-Fi Sound with Modern Digital Convenience
Upgrade Your High-End Audio With Mark Levinson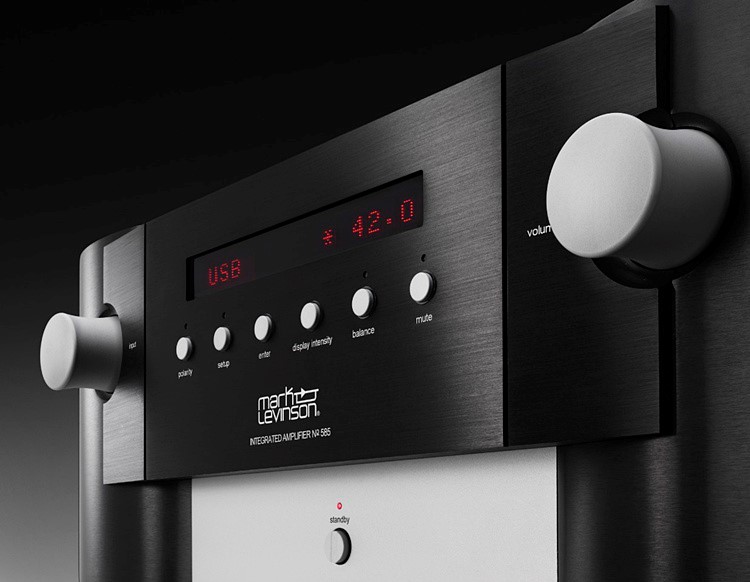 For a long time, the high-end audio world resisted the move toward digital formats. When the CD ushered in the first wave of digital music, purists initially waved it off as not as warm and nuanced as analog sources, like vinyl records. Over time, high-end audio vendors created precisely engineered and crafted CD transports that matched the nature of the preamplifiers, amplifiers, and speakers in enthusiasts' hi-fi setups.
Streaming music is now mainstream, and even die-hard audiophiles can't deny the convenience of calling up almost any music track on a smartphone or other digital device. Initially, the hi-fi world also dismissed streaming and downloaded audio as inferior quality sound. But with the advent of high-resolution music tracks also available for download and streaming, it is now easy to get the highest quality of playback ever available.
The high-end audio market has responded to this shift. New gear from the best names in high-end audio now combines the best in digital technology with the best in audio electronics engineering to deliver incredible hi-fi sound from all types of digital sources. And while some audiophiles insist on all separate components for their system – preamplifiers, amplifiers, and even DACs (digital audio converters) – there are high-end systems that conveniently combine all those into one unit that still provides audiophile-class performance.
In this blog, we want to cover our partner Mark Levinson's latest line of integrated amplifiers – uncompromising components that combine the best of digital audio convenience with top-tier performance. Read on to see how to upgrade your high-end audio setup in Aspen with the latest in digital audio technology.
See Also: Designing a Dedicated Home Theater

Digital Convenience, Analog Excellence
Founded in 1972, Mark Levinson has always been known as a purveyor of the finest electronics in home audio. Today they continue the tradition with a line of preamplifiers, amplifiers, integrated amps, and a turntable which all exemplify the finest in audio engineering.
Mark Levinson's line of integrated amplifiers, from the 5802 to the 585, combine the best in analog and digital componentry. They feature pure signal paths, proper isolation from analog and digital sections, and dual monaural class AB amplifiers to deliver exceptional power to the most demanding speakers.
On the digital side, they feature a full complement of digital inputs, from standard optical and coaxial to AES and a USB input that can take digital sources directly from a computer. They all feature the latest generation of the 32-bit ESS Sabre DACs to extract the last detail from digital formats. For future proofing, they can also decode the MQA (Master Quality Audio) formats, which streaming and download services are adopting rapidly to efficiently distribute high-resolution audio. The DACs can also handle the latest DSD 5.6 formats for the utmost in musical detail and resolution. For streaming convenience from a smart device, Bluetooth audio is onboard with AptX-HD lossless capability.
Given Mark Levinson's rich history with analog audio, the amplifier sections and power supplies are what one might expect in a hi-fi component. The 5802 delivers a conservatively rated 125 watts/channel, while the 585.5 can pump 200 watts/channel into 8 ohms. With power like this, you might never need external amplification, but the option is there with preamp outputs for future upgrades. Starting with the 5805 model, an audiophile class MM/MC phono stage is built in to connect the best turntables – like Mark Levinson's own 515.
Easy Control
While this is a true audiophile 2-channel set of components, Mark Levinson has not neglected to provide simplified control of the system. They offer handheld IR control with a high-quality machined aluminum piece commensurate with the quality of the product. The integrated amps also provide an ethernet connection, enabling control and configuration from a web browser. Drivers are also available to integrate it with smart home systems, like the ones we recommend from our partner Savant. Other inputs like IR and 12-volt triggers ensure that these integrated amps can be easily incorporated into any home control setup.
Are you ready for a high-end audio upgrade in Aspen? Just click here to get started!